Best Tips To Travel Singapore Like a Local
What to eat, where to play and how to get from one place from another.
No disrespect to any travel bloggers, but my experiences tell me that the locals know all the local gems and secrets. This is really how you discover the magic of any place.
If you want to travel to Singapore like a local, here are my recommendations for the best local hot spots. 
1. Gardens by the Bay (South)
To Singaporeans, Gardens by the Bay is just another big garden with plants from all over the planet in our garden city. "Like what's the big deal?"
It was only after I spoke to many travellers that I realized the importance of Gardens by the Bay to Singapore's tourism scene and why it is ranked #1 attraction on Tripadvisor for Singapore.
Gardens by the Bay's Flower Dome and Cloud Forest are uniquely Singapore and you will not be able to find this amazing collection of plant life anywhere else on the planet.
The Flower Dome and Cloud Forest open from 9 am to 9 pm.
When to Go: Usually, I will advise travellers to visit any attractions early so that they can avoid the crowds. But for Gardens by the Bay, my recommendation is to visit in the afternoon from 4 pm to 5 pm so to see the gardens at sunset.
That is also the time that they light up the Supertree and it will give you a whole new experience.
2. Gardens by the Bay (East)
While Gardens by the Bay (South) has 2 beautiful conservatories and a nice garden in an indoor fully air-conditioned area.
Ask any locals: the true beauty of Gardens by the Bay is across Marina Bay at Gardens by the Bay (East).
How to Get There: From Gardens by the Bay (South) walk towards Marina Barrage cross the Barrage and walk along the water body, you will arrive at Gardens by the Bay (East). The whole walk is 1.7km.
At the end of your walk, you will be rewarded with this complete skyline view of Singapore. The Garden is always quiet and peaceful unlike the one across Marina Bay.
3. Satay by the Bay
The go-to-place for food at The Gardens by the Bay is Satay by the Bay. It is located right beside Gardens by the Bay (South).
You can get a full suite of local food that you will find at any hawker centre. It just may be a little bit pricey.
4. Old Airport Road Hawker Centre
Just an 8 to 12-minute car ride away is one of Singapore's most popular hawker centres at Old Airport Road!
The Hawker Centre – Dining in Singapore
The reason the Hawker Centre's are so significant is that you cannot find anything like them anywhere else in the world.
Whenever I am travelling, I always try to find the local version of hawker centre.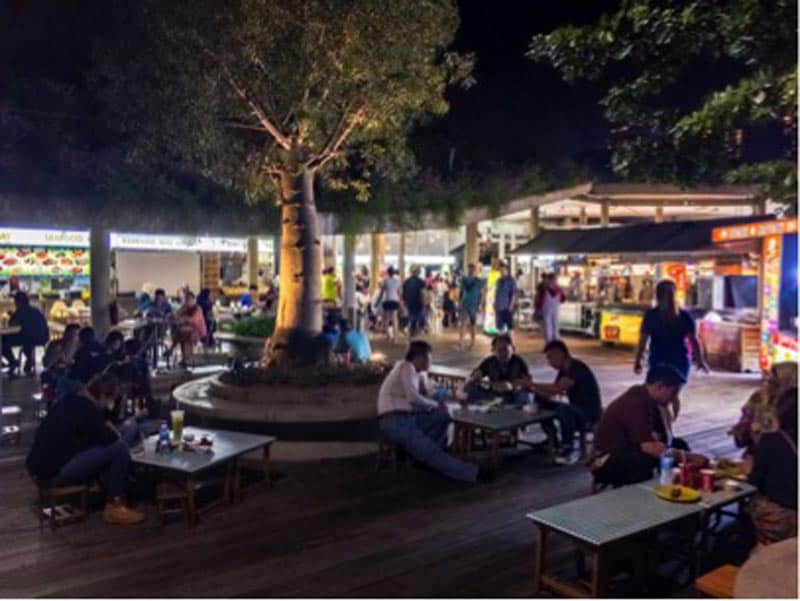 I am unable to find it in the U.S, Switzerland, France, Germany, Italy, Philippines, Thailand, Shanghai, Brunei, Taiwan (some resemblance in their night market).
You may find something similar in Malaysia because they are our neighbour.
Hawker stalls offer a wide variety of cheap local food all in one location.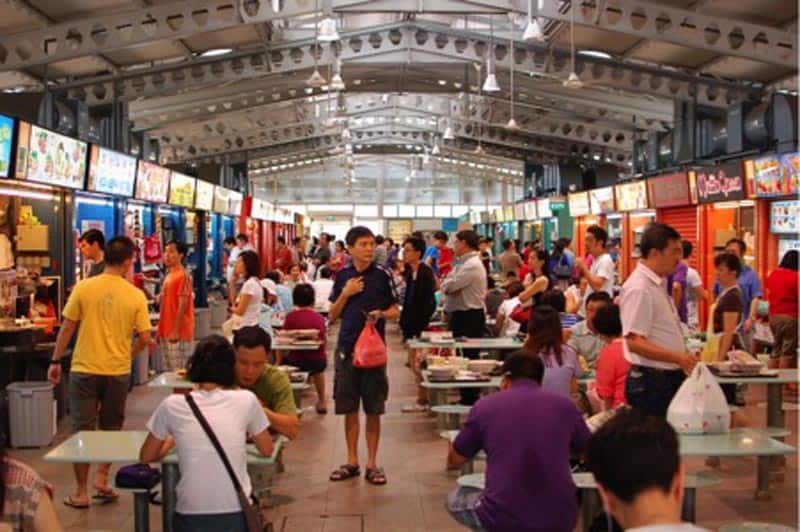 I urge every traveller visiting Singapore to dine in a hawker centre at least once. Below is the list of Hawker Centres that I selected because they are near to tourist spots:
Where to Eat in Singapore
Old Airport Road
Chinatown Complex Food Centre
Maxwell Road Hawker Centre
Tiong Bahru Hawker Centre
Tekka Centre (Great Muslim and Indian Food)
Trendy Cafés
There is also a trend of cafes popping up in Singapore over the last few years. This is not your typical Starbucks and coffee bean type of café.
Such cafés have great ambience, great atmosphere and most of all great food and drinks.
They are typically located along at the fringe of our town area.
Getting Around Singapore
Train & Bus
In Singapore, the train and bus share the same distance fare system.
Travelling by train can get you to most major areas. And then you hop on a bus to get even closer.
For travellers, the train would often be more than enough to get by in Singapore because most tourist attractions have a nearby train station.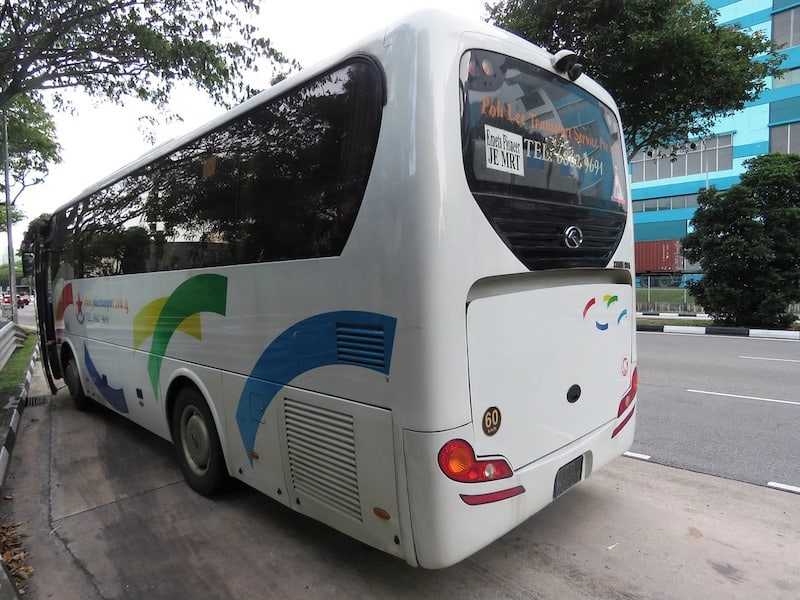 Learning the bus routes can be slightly more daunting but you can always find yourself ending up at a train station one way or another.
Private Hire (Uber or Grab)
Uber and Grab are the 2 largest ride-hailing apps in Singapore.
Most of the travellers I know use Uber extensively in Singapore. I believe this is due to Uber being a global brand and also the outright price that is agreed upon before the ride.
Travellers can consider using Grab as it is a more localized version of Uber and would often provide promotions.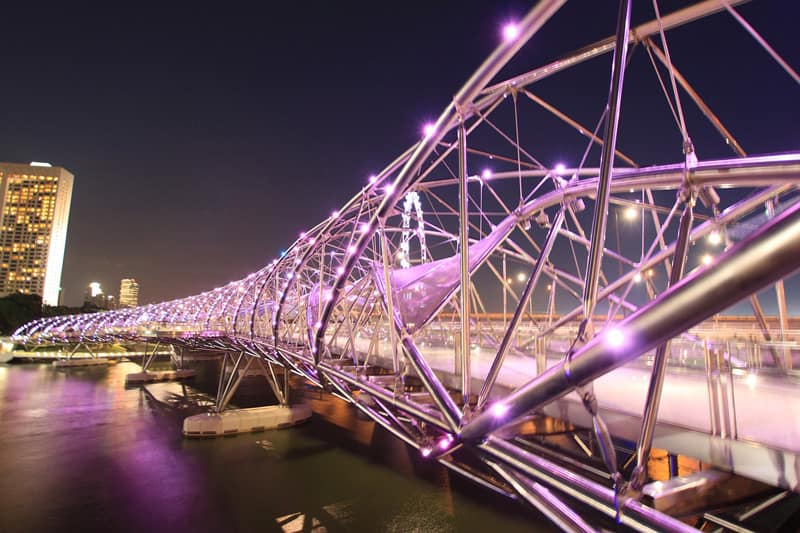 Taxi
Taxi is often the priciest option to travel around in Singapore.
Locals would only use this option if Uber or Grab is having surge pricing and there is really no way out. The flag-down fare, distance and waiting time fares are clearly displayed on the window of the back seat.
Taxi fares are also subjected to an additional surcharge of 25% – 50% during peak and wee hours (midnight to 6:00 am). There is also a surcharge of 3/5 SGD from the airport.